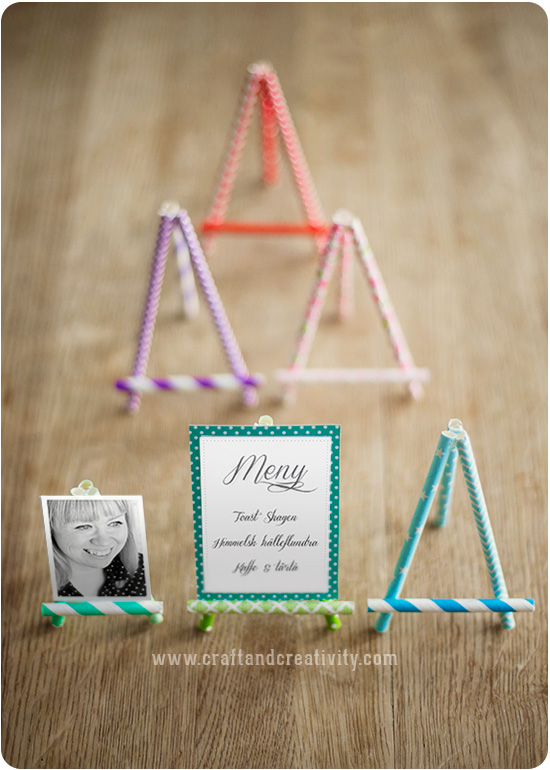 En kväll när jag surfade runt på Pinterest så fastnade min blick på söta stafflier av papperssugör (källa: Wants & Wishes) och de triggade igång min skaparlust. Jag tänker mig att dessa kan vara fina att använda på ett kalas, bröllop, dop eller till en festlig middag. Blir du också inspirerad? Det går snabbt att göra många ministafflier och allt du behöver är papperssugrör, en limpistol och en sax.
———–
When browsing through Pinterest the other evening, a picture of cute paper straw easels caught my eye (source: Wants & Wishes) and they triggered my creativity. I imagine these would look great at a party, wedding, baby shower or at a dinner party. Did you get inspired too? You can make a whole bunch of miniature easels in no time at all and all you need is paper straws, a glue gun and a pair of scissors.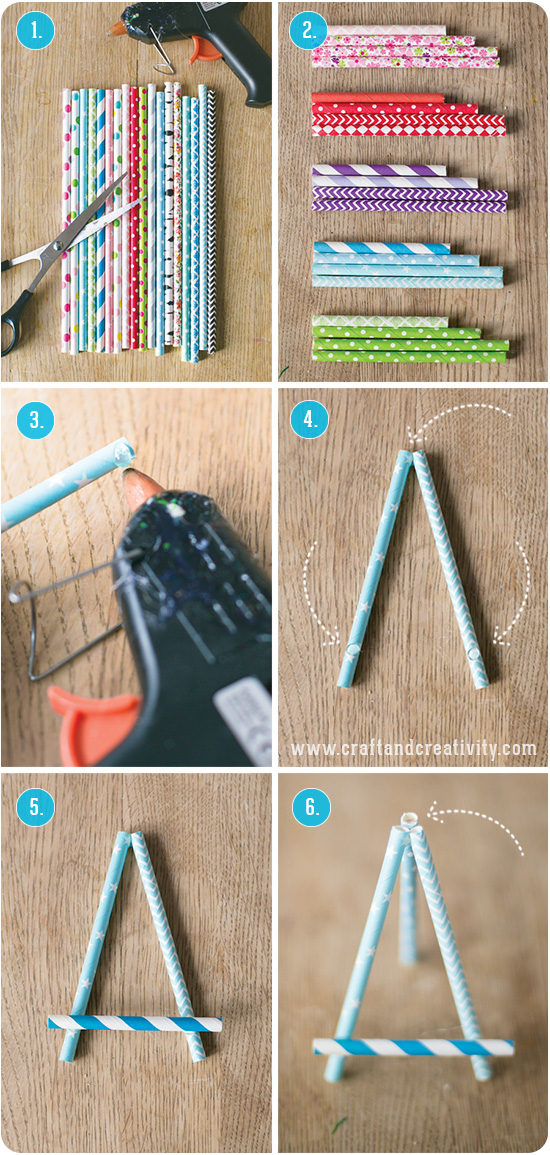 Gör så här: Börja värma limpistolen. För ett staffli ca 10 cm högt behöver du klippa sugrören i följande längder: 2 st 11 cm (framben), 1 st 9,5 cm (stödben) och 1 st 7,5 cm (hylla). Till ett staffli i den här storleken behöver du 3 st sugrör. Börja med att limma ihop toppen av de två främre benen och droppa lite lim ca 2 cm från båda benens "fötter", där hyllan ska sitta (se bild ovan). Var försiktig så att du inte bränner fingrarna på det varma limmet. Sätt hyllan på plats, så rakt som möjligt. Låt torka, det tar inte mer än ett par minuter. Limma fast det bakre benet i en lagom vinkel så att staffliet får ett bra stöd. Håll en liten stund medan limmet torkar.
—————
Do like this: Start heating the glue gun. For an easel about 10 cm (4″), you need to cut the paper straws in the following lengths: 2 pcs 11 cm (2 x 4.3″) for the two front legs,
1 pc 9,5 cm (1 x 3.8″) for the supporting back leg and 1 pc 7,5 cm (1 x 3″) for the shelf. You need three paper straws for an easel in this size. Start by gluing the two front legs together at the top and drip some glue about 2 cm from bottom of the two legs, where the shelf is to be placed (as seen in the picture above). Be careful not to burn your fingers on the hot glue. Put the shelf in place, as straight as possible. Allow to dry, this will not take more than a couple of minutes. Clue the back leg in a suitable angle for the easel to get steady. Hold for a few moments while the glue dries.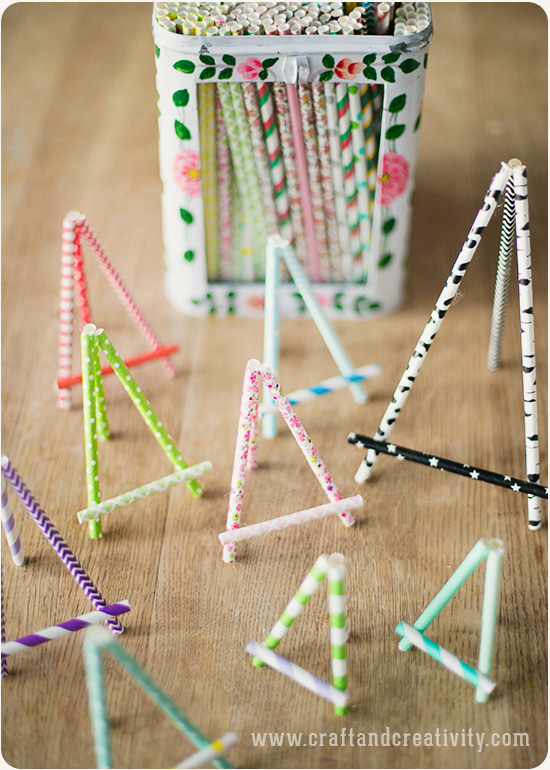 Storleken går förstås att variera och gör du mindre stafflier så går det bara åt 2 st sugrör till varje staffli. Till mitt största staffli (det svartvita) gick det åt 4 st sugrör och då använde jag två hela sugrör till frambenen. Tänk bara på att göra det bakre stödbenen lite kortare än de två frambenen, då får staffliet en snygg lutning utan att benen spretar för mycket.
———–
The size can be varied and if you make smaller easels you only need 2 paper staws for each one. For my large easel (the black and white one) I used a whole straw for each of the two front legs. Just make sure to cut the supporting back leg a little shorter than the two front ones. Then you will get a sleek slope without the legs sticking out too much.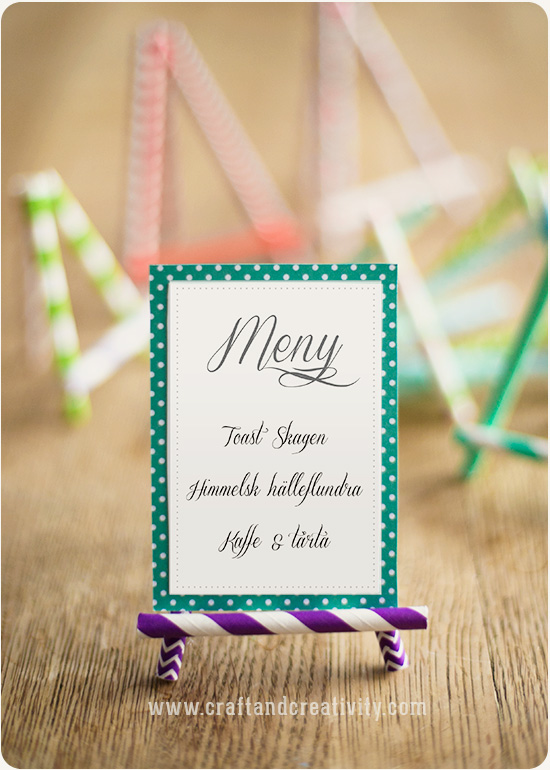 På dina stafflier kan du placera kvällens meny, en sångtext eller gästernas namn vid en bordsplacering. På en buffé kan stafflierna användas för information om vilka av rätterna som innehåller nötter/gluten/mjölk eller annat som gästerna behöver veta. Jag skrev ut min meny på datorn och limmade den på en bit mönstrat papper.
—————
Use your miniature easels to display a menu, a lyric or your guest's names at a table setting. You can use the easels at a buffet to inform about which dishes contain nuts/gluten/dairy or anything else the guests need to know. I wrote and printed my menu from the computer and glued it on a pice of patterned cardstock.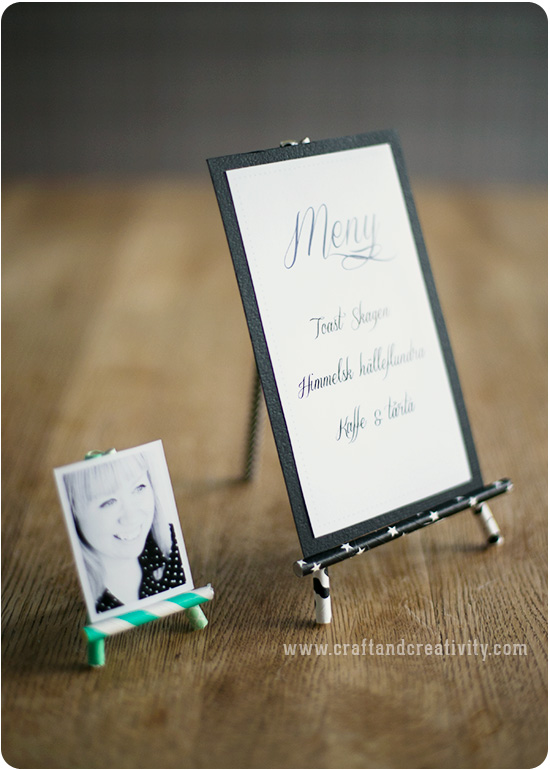 Som ett roligt alternativ till att skriva gästernas namn kan man skriva ut fotografier på gästerna och placera ut bilderna på var sitt ministaffli intill tallrikarna.
———–
As a fun alternative to writing the guests' names you can print photos of the guests and place them on mini easels next to the plates.